When Dawson Riley is running late going out, Johnny Angel gives him reasons to not care.
Eddie Diaz gets a look at Johnny Angel gardening naked and needs to do a little digging in the dirt himself.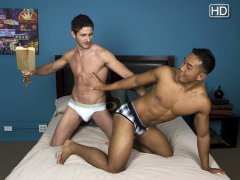 Johnny Angel and Nick Hurley finished a live show one night but were by no means finished with each other. See what happened when we let the cameras roll.
Johnny Angel surprises Max Cruz during a solo shoot and shows him what it's like to get a blowjob from another guy.
Chris Rockway takes Johnny Angel under his wing before his first live show and gives him some really hot pointers on how to give a kick ass blowjob and how to take a big hard cock from several different positions.
Three adorable guys, three levels of experience, super hot three-way. Gavin Tate, Johnny Angel and Sean Everett partake of their first three-way ever.
Johnny Angel has only ever kissed another guy before. Watch hottie Lucky Daniels give him his first ever experience blowing and getting blown.
Johnny Angel has built a beautiful body with lots of physical activity and hours at the gym. What would it be like if he had the gym all to himself?