With some extremely talented cocksucking, rimming and ass fucking, Porter Wescott and Nick Hurley give new meaning to the term hardcore gay sex.
When Malachi Marx, Nick Hurley and Sean Everett get some joysticks in they're hands, the competition gets hot!
Nick Hurley and Xander Scott sucked each other off, getting them so horny that Xander just had to hit it.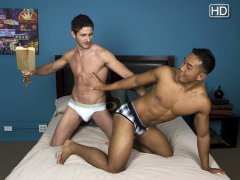 Johnny Angel and Nick Hurley finished a live show one night but were by no means finished with each other. See what happened when we let the cameras roll.
Trent Davis gives Nick Hurley the best wake up call there is, a sensual deep throat blowjob.
Nick Hurley is a hottie I met in Houston. He's got the sexiest patches of natural thick body hair strewn about his otherwise smooth skin. Very sexy.